You are here:
Accelerated Reader
Step One :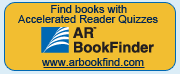 Search from  140,  000 available AR tests.  You may search this database from home or school.  We are very excited about our AR BookFinder features. This online database allows students and parents can search by author, title, points, grade level, genre and keywords in the summary.
Color coded dots:
From our prior system, some of our books on our CCL shelves have  the colour coded dots on their spines.  While you are not limited to selecting only these books for your AR assignment,  the coloured dots are a guide to help you. A list of reading levels and color codes can be found below.  Always verify your book's reading level in the AR BookFinder  program.  Seek your teacher's approval as well.
Kindergarten: reading level 0.0-0.9
Grade 1: reading level 1.0-1.9
Grade 2: reading level 2.0-2.9
Grade 3 :reading level 3.0-3.9
Grade 4: reading level 4.0-4.9
Grade 5: reading level 5.0-5.9
Grade 6: reading level 6.0 and up
Step Two :
Take an Accelerated Reader Quiz or a STAR test
About our Accelerated Reader (AR) program:
Reading books gives reading practice–and practice makes for a better reader. To encourage reading both inside and outside of the school day, we use the Accelerated Reader program. The students select books from the AR BookFinder program, read the books, and take tests on a computer at school to see how well they understood the vocabulary and story line of the book. Points are earned by the students depending on the reading difficulty of the book and how well questions were answered. The teachers assign goals students are to achieve by month or by quarter. The computer keeps track of the points and the students, teacher and/or parents can look up their reading records at any time.
Take your AR test or STAR test by clicking here.
Step Three:
This new feature allows parents to be more involved with their child's reading habits, by monitoring  their child's reading successes from anywhere. Their unique user name and password allows the parent secure access to their child's reading record only.  Intermediate School (grade 4-5-6) as well as grade 3 students have recorded their user name and password in their study buddy, written down on their birthday, or half birthday. Students in grades 2 will have a slip of paper sent home with their user name and password during October 2011. A reading history is available, as well as an email message notification service.  Parents are strongly recommended to be involved with their child's reading habits: to assist in the selection of, discuss the storyline and to praise their literacy successes. See Mrs. Potwin with any questions or concerns that you might have or email me at spotwin@saintstephens.org .
Library Recommendations:
The  2011-2012 Sunshine State Young Reader's  list click here.
Sanit Stephen's students in grades 4, 5 and 6 are invited to read as many of the Sunshine State recommended novels as they wish.  Children who read atleast 5 books from this annual list,  then pass the accompanying Accelerated Reader test, will be invited to attend our annual voting party, to be held on April  2013 Location to be announced. See Mrs. Potwin for more details or email me at spotwin@saintstephens.org
DEADLINE FOR SUNSHINE STATE READING/AR TEST TAKING  TBD