The Saint Stephen's Athletic Hall of Fame was established in 1998. By December 2009, 146 alumni and 3 coaches had been inducted (see complete list here).
In 2016, after a 6-year hiatus, the criteria for nomination were revised and the AHOF was reinstated. The tradition's roots remain intact, the AHOF henceforth continuing to honor Falcon student athletes and coaches who excelled in their respective sports or coaching roles and who brought recognition and distinction to the School through their conduct both on and off the fields, courts, courses and track. This recognition celebrates and promotes the spirit, pride and sense of community at Saint Stephen's and serves as an historical account of the many outstanding athletic participants at the School through the years.
2021 Inductees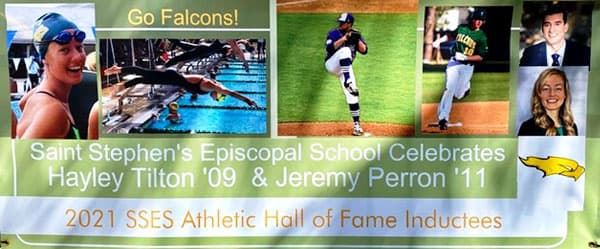 Hayley Ann Tilton '09 (swimming)
Haley Ann Tilton was a four-year letter winner at Saint Stephen's Episcopal School for swim coach Tina Broderson. As a result of her hard work, dedication to her sport and rousing success, Haley was recruited and continued her swimming career at Tulane University.

As a Falcon, Hayley won the county championship in each of her final three seasons and was named swim team MVP all four years of her high school career. She was named Academic All-American as a senior and was an All-Area team selection in her junior year. Hayley advanced to the state finals as a junior and senior and set school records in the 50 free and 100 free. In addition, she helped relay teams set school marks in the 200 free, 200 medley and the 400 free. In Club swimming, Haley swam three years for the Sarasota YMCA and helped the Sharks win national championships in 2008 and 2009, and state titles from 2007-09. Hayley won a gold medal in the 200 free relay at the 2009 YMCA Nationals and a silver medal in the same event in 2008, posting top times of 24.70 in the 50 free, 53.65 in the 100 free and 1:55.41 in the 200 free.

At Saint Stephens and away from the pool, Hayley was a member of the National Honor Society, the National Spanish Honor Society, the National Latin Honor Society, Mu Alpha Theta and the Cum Laude Society. In college, she was an honors student and a recipient of Tulane's Dean's Honor Scholarship.

Hayley earned her B.S. in Management at Tulane University's Freeman School of Business in '13 and followed that up with a master's in accounting in '14. Hayley is currently enrolled part-time at Tulane University School of Architecture, where she is pursuing her master's in Sustainable Real Estate Development with an anticipated 2022 graduation. She works as a CPA and is Senior Audit Manager at Carr, Riggs & Ingram in Metairie, LA. Married in December '20, Haley remains most proud of her continual volunteering for a myriad of organizations (most of which are environmental groups), and her seat on the Board of SOUL, a tree-planting organization. In homage to Haley's good works in the community, she was nominated by her firm colleagues for the AICPA's Outstanding Young CPA Award.
Jeremy Perron '11 (baseball)
Jeremy attended Saint Stephen's from 2005-11. A strong student in the classroom who repeatedly appeared on the Head of School and Director's lists, Jeremy was named Saint Stephen's Athlete of the Year as a senior for his accomplishments in baseball, football and basketball.

During his time at Saint Stephen's, Jeremy was a standout on the baseball team. He played four years of varsity baseball as a pitcher and first baseman and was named team captain and Team MVP in his junior and senior seasons. In 2011, he was named to the District 2A All-State team and was an All-Area selection in both 2010 and 2011. As a senior, Jeremy set the Saint Stephen's single-season batting average record (.612). Over the course of his career, he batted .443 with 58 RBIs, 66 runs scored and five home runs. On the mound, he compiled a career ERA of 2.12 with 145 strikeouts and three complete game shutouts in over 100 innings pitched.

Beyond the diamond, Jeremy played on the varsity football and basketball teams. As a captain and quarterback of the football team his senior year, Jeremy set all of Saint Stephen's single-season and career passing records, most of which still stand today. That season, Jeremy finished top-10 in the state of Florida in passing yards and completions and top-20 in passing touchdowns, earning All-Area recognition. He also quarterbacked Manatee County to a victory over Sarasota County in the annual PAL Bowl All-Star Game. As a member of basketball team his senior year, Jeremy averaged a double-double, leading Saint Stephen's in scoring and rebounding.

After Saint Stephen's graduation, Jeremy played Division I baseball at the College of the Holy Cross. He was a four-year letter winner as a pitcher, appearing as both a starter and reliever during his career, and earned a BA in Political Science & Spanish. As a pitcher at Holy Cross, Jeremy helped the team reach the Patriot League Championship twice, before falling to Army both times. Collegiate highlights included scoreless relief appearances against #4 Mississippi State and #7 Texas A&M, first collegiate win against Harvard and a shutout performance in a start against Brown. Jeremy now works in management consulting for Teneo, the global CEO advisory firm, in New York City.
2018 Inductees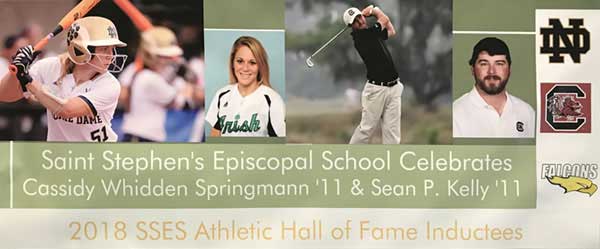 Cassidy Whidden Springmann '11 (Softball)
Cassidy was a five-sport varsity letter winner at SSES recruited to play softball at the University of Notre Dame. Considered one of the best catchers in Notre Dame Softball program history, Cassidy played all four of her college years and was a member of the final Irish BIG EAST Conference championship team in 2013. The following season, her team was conference runner-up in its inaugural Atlantic Coast Conference play. 

Cassidy appeared in 184 games for the Irish (146 starts), splitting her time between catcher and designated player. She was a career .286 hitter with 23 doubles, 35 home runs, 120 RBI, a .597 slugging percentage, a .406 on-base percentage and 100 runs scored! Cassidy remains Notre Dame's career leader in hit by pitch (32) and ranks in the top-10 of all-time Irish players in slugging percentage, home runs and fielding percentage. As a junior, Cassidy was named National Fastpitch Coaches Asssociation Mid-Atlantic All Region 1st Team. She is one of only eight Notre Dame players ever to hit 10 or more home runs in consecutive seasons. 

Cassidy composed a beautiful letter that was read aloud at her induction that included the following:

"It is my firm belief that I would not be the person I am today without the support and love I received while a student at Saint Stephen's. Thank you to the faculty and staff who invested more than time in students like me. Thank you for embracing my uniqueness, recognizing my individual strengths and giving me the confidence to pursue my goals. Even though I've graduated, Saint Stephen's will always be in my heart."
Sean P. Kelly '11 (Golf)
Sean attended SSES throughout  high school and was both a leader on the Falcon golf team and a Leadbetter First Team All-American (Sean also trained at the David Leadbetter Golf Academy). In middle school and early high school, Sean was ranked the #1 junior player in the State of New York, a top-50 player in the American Junior Golf Association and Golfweek rankings, and was a 2010 U.S. Amateur participant. Sean accepted a scholarship at NCAA Division I University of South Carolina where he enjoyed a stellar golf career spanning five years (an injury having sidelined him for his junior year season).

As a college freshman, Sean was cited among the top SEC players to watch and made the SEC Academic Honor Roll. (He maintained his Honor Roll status from 2012-16.)  As a junior in 2014-15, Sean recorded five top-20 finishes, a top-10 showing, had an impressive 72.71 stroke average and was named a Cleveland Golf/Srixon All-American Scholar, a recognition he again earned as a senior.
In his senior season, Sean's 69 (-1) in the NCAA Championship stroke play fourth round helped the Gamecocks surge from 12th to 7th place and qualify for the match play portion of the tournament for the first time. Sean grabbed his third top-10 finish at the Tuscaloosa Regional and was Carolina's top performer at the SEC Championship. Sean's career-best, 5-under par 65 at Camden helped cinch the tournament title. 

The capstone of Sean's college career was his receiving the prestigious University of South Carolina Scholar-Athlete of the Year Award in 2016. Advancing through the Canadian Tour School as an amateur in spring of senior year, Sean turned professional in June 2016. He joined PGA Tour Canada and played two seasons there. In May '17, Sean "Monday" qualified for the AT&T Byron Nelson in Dallas with a round of 67. He advanced through a 4 for 3 playoff with YE Yang, the winner of the 2009 PGA Championship. Sean ultimately missed the cut by 3 strokes, but gained valuable experience. 

In fall '17, Sean was a medalist in both of the early stages at Web.com Q School, but just missed receiving exempt status in the final stage. Sean has conditional status for the 2018 season and is playing to qualify for events and improve his standing. He did just that on March 4, 2018, winning the qualifier for the El Bosque Mexico Championship outright and making the cut for tournament play.  Of special note, Sean has been a type-1 diabetic since early childhood, a condition he never allowed to hold him back from striving to achieve his lifelong dream of becoming a PGA professional. He is indeed an inspiration to those playing sports with physical limitations.
2016 Inductees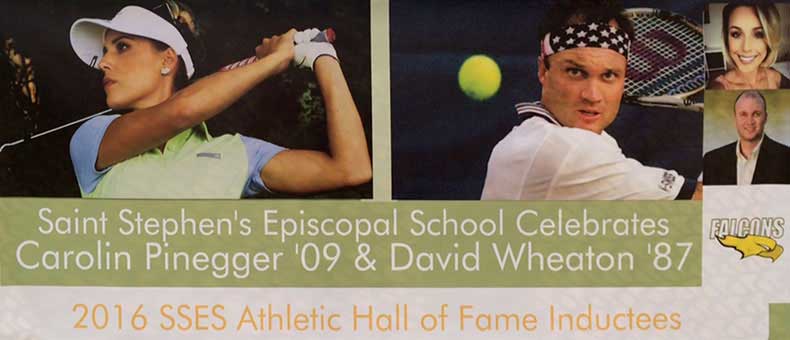 Carolin Pinegger '09 (Golf)
Carolin played golf at Saint Stephen's while training at IMG Academy and was recruited by the University of Central Florida. She turned professional immediately upon college graduation and joined the Symetra Tour ("the road to the LPGA"). She is currently taking a year off from Symetra play to get her MBA at Rollins College. 

Prior to college, Carolin was a 5-year member of the Austrian National Team, finishing 3rd in the 2008 Austrian National Championship. She excelled on the Future Collegians World Tour (FCWT), winning the championship in 2008 and named FCWT All-American. College highlights include Carolin's being named All-Conference USA in '10 and helping lead the Knights to their first tournament championship since 2002. In 2012, she was again named All-Conference USA and was top-finisher for the Knights in NCAA East Regional competition. She was elected captain of the UCF ladies' golf team in 2013, after having been selected to UCF's prestigious Captain's Council in '10 – an organization teaching members how to be better leaders and how to facilitate teammates becoming leaders in their own right. While much of her undergraduate years were spent in the classroom and on the links, Carolin still found time to give back to the community through volunteer work in a variety of community service projects including Habitat for Humanity, Autism Walks and Junior Achievement programs. 

In 2014, Carolin was a cast member on Big Break Myrtle Beach, the 22nd season of the Golf Channel's popular television series. She is also co-creator of a social network called GLBrain.com, an internet platform providing users with the ability to start their own blogs about vital issues like politics, finances and the environment.
David Wheaton '87 (Tennis)
David won the US Open junior title in '87 and was ranked No. 1 junior player in the USA. In 1988, he enrolled at Stanford and his team won that year's NCAA Division I title. David turned professional later that year, winning his first top-level singles title in '90 and finishing as men's doubles runner-up at the US Open. In 1991, David won the Grand Slam Cup in Munich, beating Michael Chang in straight sets; reached the semi-finals in men's singles at Wimbledon, beating Andre Agassi in the quarter-finals before losing to Boris Becker; and was a men's doubles runner-up at the Australian Open with partner and former Stanford teammate Patrick McEnroe. In July '91, David reached his career-high singles ranking: World No. 12. Retiring from the professional tour in 2001 due to recurring injuries, David continued playing in professional tournaments on the senior tour, winning the Wimbledon men's 35 doubles championship title in '04 and achieving runner-up status in '05. He served on the Board of Directors of the United States Tennis Association through 2006.
Today, David is a radio host on The Christian World View, a nationally-syndicated 1-hour talk show. He has also written two insightful and acclaimed books: University of Destruction: Your Game Plan for Spiritual Victory on Campus (published in '05), and My Boy, Ben; A Story of Love, Loss and Grace,which beautifully chronicles his 9-year relationship with his yellow Labrador retriever.